Would you like a free designer Verragio ring from their upcoming Venetian line?  Yeah, I thought you might.  Check out this post that originally appeared on PRweb.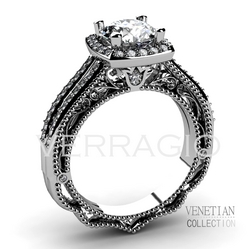 Verragio, manufacturer of engagement rings and wedding bands, will be giving away 10 engagement rings to 10 of its fans on Facebook beginning March 24th through their newest sweepstakes.
New York, NY (PRWEB) March 23, 2010 — Verragio is giving their fans on Facebook another 10 chances to win an 18K gold and diamond engagement ring during a new sweepstakes titled "Ten Verragio Rings, Ten Weeks, Ten Winners." Each engagement ring that will be given away will be from Verragio's new Venetian Collection beginning March 24, 2010.
The Venetian Collection by Verragio
With Barry Verragio's latest Venetian collection, Verragio will offerengagement ring and wedding band designs that go beyond the typical engagement ring styling to provide a unique look reminiscent of fine Italian lace. The rings in the Venetian Collection will join Verragio's Couture, Insignia, Paradiso and Classico Collections as another option to the engagement ring shopper who is looking for a ring style that is transcendent of time.
"Giving away 10 engagement rings to our loyal Verragio fan base is not only a token of appreciation for their support," says Barry Verragio, "But also a great way to introduce them to the newest Verragio Collection before they are even available in retail establishments." The Venetian Collection will be available in authorized retail establishments beginning May 2010.
To become eligible for Verragio's engagement ring giveaway, you must become a Fan of Verragio on Facebook. Specific rules of the contest will be posted on March 23, 2010. Ten winners will be selected at random and announced on the official Verragio Fan Page.
About Verragio:
Verragio specializes in engagement rings and wedding bands of the highest quality and beauty. Verragio is the creator of the Lumino Setting, a revolutionary setting technique that reveals all sides of a diamond, opening up every facet to light. Available in platinum, gold and palladium, the Verragio Collections can be seen only in carefully selected, authorized retail establishments located in the United States and Canada.
For questions about the latest line from Verragio or more on any specific piece offered at Kranich's Jewelers, visit Kranichs.com or call 888.944.4575 and we will be happy to help you.